Products

Fenestration Systems Pvt Ltd
Off: 7-3-711, Rastrapathi Road, Secunderabad.
AP, India.500003.
Tel: +91-9849013060, 040-66383012.
Fact: C-63A, Industrial Estate, Sanathnagar, Hyderabad-500018
Tel: +91-9849013060
040-65556511.
email:
Shop Fronts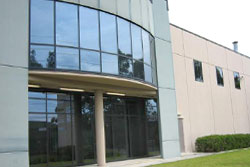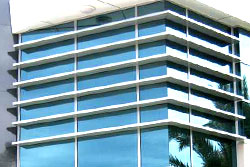 100, 150 & 250 x 50mm
Measuring 100mm, 150mm and 250mm deep and 50mm wide, the Flushline Single Glaze suite carries the glass almost flush with the front of the frame, thus the glass effect of buildings is highlighted.
Front glazing creates greater floor area, exceptional
water tightness. 
Accommodate glass from 6-12mm thick.
Recommended for medium rise projects. 
Can incorporate vision and spandrel panels within one frame. 
Captive glazing wedge option for easy glazing from
one side. 
Optional structural glazed mullions and transoms.
Notes 
1. Optional sub-head and subsill.
2. Accepts all types of doors.
3. Self draining transoms and sills.
4. Provision for mullion splicing.
5. Some sections provide for internal glazing.
Recommended for use with:
409 Superline
249 Hinged, Pivot and Sliding Door
For Further Details on structural glazing: www.sunglazingindia.com
Quality Assurance
High quality forms the pedestal for our organizations success. Our quality auditors have been provided with a hi-tech testing laboratory, which is extensively utilized to check the standards of each and every product. These auditors even visit the installation site in order to determine proper usage and functioning of the end-product.
The team enforces international quality standards in its work processes, and the parameters that it adheres to are:
Strength
Finish
Construction
Design
Durability
Corrosion resistance
We provide design, installation and post-installation services for our diverse product range, and are supported by experienced & qualified engineers. Our services are known for providing advantages like cost-effectiveness and on-time execution. We make sure that our services conform to the defined industry standards and are carried out as per clients' requirements.